Get Started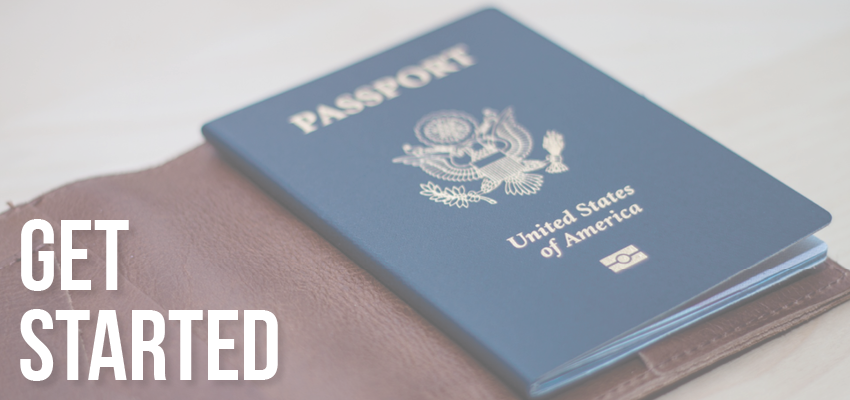 Step 1:
Login
The first step in your journey to studying abroad is to login. To get started, simply Click Here (if prompted, select "I have a username and password") and use your ETSU username and password to sign in. Alternatively, you can click "Apply Now" on any of the program pages, and you will be prompted to login from there (again, please select "I have a username and password").
Step 2:
Get Advised
After logging in, there are several ways you can set up your advising appointment. First,

Click Here

to go to an advising page and submit an Inquiry Form questionnaire. You may also find a program you like and click "Apply Now". Once that's done, you will have instructions on your student profile under "Advising" to set up an appointment with the Study Abroad Coordinator. You can set up your appointment by calling (423-439-7737) during business hours (M-F 8:00-4:30) or emailing our office at

interntl@etsu.edu

. Please note it is a requirement to submit the inquiry form questionnaire before coming to your appointment.
Step 3: Program Information
There are many different programs offered through our site. So before you start exploring our vast number of programs, we recommend for you to read through the

program information

. There you will find some general information about the different types of programs. This can also help you determine what program will work best for what you want to get out of studying abroad.
Step 4: Program Search
Now that you've been advised and have looked through the program information page, you should have a better idea of what type of program or which country you'd like to know more about. To find what programs we have available, you can use the

Program Search

. From there, you will have the option to search for specific programs or browse programs in a specific major or country. There are a lot of options, so take your time to find the one that is the best fit for you!
Step 5:
Apply
Now that you have found some good programs, it's time for you to start the application process. Go to your

student profile home

and select one of your programs. How to find and apply to a program.
From there, you will need to fill out some basic information including:
Pay the $30 Study Abroad Application Fee
Sign the Disciplinary Records signature document
Request and follow-up on the Faculty Recommendation
Complete the General Application questionnaire
If going through TnCIS, make sure to use the TnCIS Application Form to pay your application fee
Be sure to complete the requirements for all of your programs. Keep in mind that the $30.00 application fee is only paid once per year, and it applies to however many programs you want to apply for. Once you pay the fee for one program, our office will check off that requirement for all of your program applications. Be sure to check your profile for any missing requirements.
Be aware that some programs require you to submit a separate application on their provider website. Examples include ISEP, API, CIS, ISA, and SAI programs.
Step 6: Decision
Once you submit your application, the Study Abroad staff will review your application and either "accept," "reject," or "waitlist" your application. Once you are "accepted" into a program, the following forms will appear in your profile. Please, make sure to complete all of them:
Study Abroad Credit Approval (SACA) Form
ETSU Agreement for Participation in Study Abroad/Exchange Programs
Financial Aid/Transcript Dislaimer
Health Disclosure Form
Student Financial Authorization and Release
Student Medical Surrogacy Authorization
Emergency Contact
Flight Information
Medical Information
Passport Information

***Scholarship Application (if applying to the ETSU International Education Scholarship)***

***TnCIS Program Fee Payment Form (ONLY if going through TnCIS)***
Note: There will be a MANDATORY Pre-Departure Orientation before you travel abroad. Your study abroad coordinator will contact you with more details about it when the time comes.
Step 7: While Abroad
Make sure to register side-trips to your profile every time you take a trip during your time abroad. This is important so that our office knows where you are at all times in case we need to reach you for an emergency.
Step 8: Return
*** There will be a MANDATORY Re-Entry Orientation to debrief about your time abroad. Your study abroad coordinator will contact you with more details about it when the time comes.***



The following two forms will be made available to you once your term ends. Even though these are not mandatory, we would appreciate your participation:
Study Abroad Ambassador Application

Study Abroad Student Satisfaction Survey