Faculty Information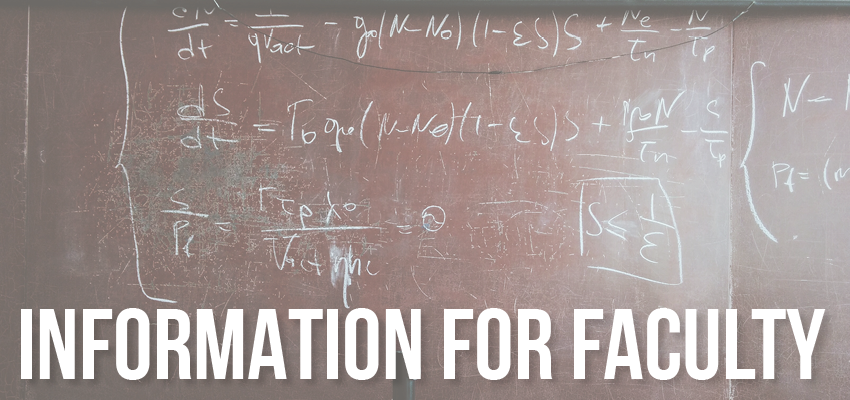 Faculty Course Proposal
Deadlines
Summer Term
2019
Winter Term
December 2018 - January 2019
Summer Term
2020
Winter Term
December 2019 - January 2020
September 1, 2018
April 1, 2019
September 1, 2019
April 1, 2020
Options for Teaching a Study Abroad Course
Option 1: Propose to Teach a TnCIS Course
TnCIS (pronounced ten-sis) is a program developed by the state to help Tennessee students study abroad. It is a consortium of colleges across the state. A faculty member from a college in the state of Tennessee teaches a class, exclusively for Tennessee students, in another country. This is a great option for those wanting to teach a study abroad course for the first time. For more information, please visit their website: http://www.tncis.org/
Option 2: Submit an ETSU Faculty-Led Course Proposal
How to Create/Edit a Program
How to Manage Student Applications:
Click here for a step-by-step video created at ETSU on Student Processing
Click here for a step-by-step video on application questionnaires, fees, student documents
Faculty Proposal Documents
My Course Proposal Was Approved! Now What?
Instruct students to create a Bucs Abroad profile. Feel free to copy & paste the instructions below:

Directions for students: Students will need to visit the Bucs Abroad portal at https://studyabroad.etsu.edu , click "Program Search", type the faculty leader's last name and/or name of program, and click "apply now". They will be prompted to create a username and password. Please ask them to use their Goldlink username (not full email, just the username portion) and Goldlink password. This way, their Bucs Abroad account will link to their Goldlink account. A complete application to a program includes a $30 application fee (this fee is because we are charged $30 per student who uses the Bucs Abroad system), submitting an application/transcript, and accept that administrators can view their disciplinary records.

For students' acceptance, you just need to review that they have done the following:

paid the $30 application fee

submitted their disciplinary records form (if they have questions, ask them to click on the form and read the instructions)

review their application and transcript to show that they meet the minimum requirements for study abroad, as stated in the faculty manual, as well as additional criteria you may have in place. For example, students must have at least a 2.5 undergraduate GPA/3.0 graduate GPA

Once the students have submitted their documents, please do the following:

Accepting Students: send the Study Abroad Coordinator a list of students you would like to accept, and he/she will change their status on the Bucs Abroad portal. The student will then have access to the post acceptance documents (this is where they fill out their passport information, medical info, emergency contact, etc)
Disciplinary Record: email your student list (cc study abroad on it, so they in the loop) to Janice Gilbert (GILBERJS@etsu.edu)in Student Services and ask her to see if any of your students have a disciplinary record. This is to ensure no one with a violent history will be traveling with you!
Post-Acceptance Documents: Once a student's profile status changes from "pending" to "accepted", they will have access to the post-acceptance documents (passport information, medical info, emergency contact, etc). Instruct students to log-on and submit all documents. You can set your own deadline on this, but it must be completed before trip beings.
Pre-Departure Requirements for Students
All students enrolled in a study abroad course/program must create a profile on the ETSU study abroad portal, with an accurate date of birth. They must submit all documents listed under the Material and Questionnaire tabs on the ETSU study abroad site. Documents required for pre-departure are available on the student's application profile, after his/her status has been updated to accepted and the program decision date has passed.

Note: All documents are submitted online, with two exceptions:
Students under the age of 18: these students must be print and have a legal parent/guardian sign on their behalf. This system will automatically detect this students and instruct students to do so.
Students who do not list their date of birth on their profile: the system will assume that the student is under the age of 18 and require a parent/guardian signature on documents. To correct this, the student must log in, edit their profile, add his/her date of birth, and then click off on the necessary documents. This is the most common issue for not being able to submit documents online.
Pre-Departure Requirements for Faculty
U.S. Department of State STEP Registration:

Register the trip with the U.S. State Department: https://step.state.gov.

Ask each student to sign up and download the app.

List all airport layovers, in the event of an emergency while en route to the destination. This way, the US Embassy knows exactly where each student is located and can help.

Class Health Insurance: All ETSU Faculty Led programs must purchase health, accident, and travel insurance for themselves and all students in the course. ETSU uses a United Healthcare Group plan that covers illness, accidents, medical and non-medical evacuation, repatriation. The plan also includes travel insurance: travel delay, interruption, cancellation, and lost baggage. The faculty member sends a class and faculty roster to the insurance company, then cards are issued & emailed to the faculty member.

The health insurance plan must meet or exceed the benefits offered in the ETSU United Healthcare Group plan (for example, it must include medical evacuation and repatriation as well as security evacuation benefits).

Click here for detailed Health Insurance Instructions
Click here for the Study Abroad Health Insurance Premiums - AY2018-2019/Summer 2019.xlsx
Click here for the United Health Care Study Abroad Group Enrollment Form
Please email proof of the group's insurance to studyabroad@etsu.edu

Note that insurance invoices are generated & sent directly to the faculty member for payment. This means the faculty must collect student payments.

Funds collected from students must be deposited in an ETSU Agency account. Please contact ETSU Financial Services to set up an account or to learn how to utilize an account.

Non-US Citizens: If a non-US Citizen is part of the program, leaders are advised to discuss visa issues with the student. The student should apply for any required visas well in advance of the program start date.
ETSU International Education Scholarship and/or Summer $1,000 Scholarship: Encourage your students to apply for the International Education Scholarship as soon as possible. Information is available under "Scholarships" or by clicking here. This only applies to students receiving course credit.
Disciplinary Records: email a list of students to Janice Gilbert in Student Services and ask her to review whether the students have a disciplinary record. This way, you can prevent those with a violent history from travelling with the group.
Emergency Contact Cards: please ask Study Abroad for a stack of emergency contact cards. These are blue cards that list ETSU's Public Safety 24/7 service line, to use in the event of an emergency.
Review, Save & Print Student Documents: it is important to have students' medical information & emergency contacts available in printed form, in case of an allergic reaction or other emergency.